MHMK University awards your media scenarios with six BA and MA scholarships in Germany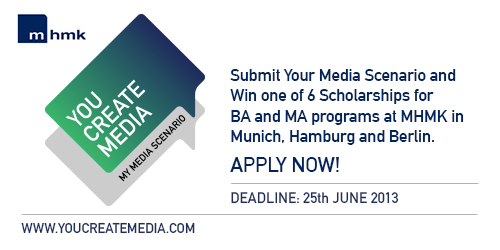 Munich/Germany — What is the future of media? How is it trending and how will this change affect your life? Media patterns transform at an accelerated pace. We are at a crucial point in time where rethinking traditional models helps shape future standards. MHMK invites young creative talents to develop ideas and projects inspired by "your media scenario" and to win one of the six scholarships, whose combined value amounts to 95.850 € for its English bachelor and master programmes for 2013/2014 in media, communications and design in Munich, Hamburg or Berlin.
MHMK, Germany's leading university for media and communications, provides outstanding research and study facilities and is best known for its outstanding career opportunities.
Develop your concept and show your creativity by exploring "your media scenario" — your ideas, your opinions, your dreams about this "future media scenario". Nowadays we live in constant contact with the media whether it be TV, internet, or through social media.
The competition is open to international students aged 18-28 for the bachelor in Media and Communication Design and Media and Communication Management and aged 22-38 for the master in Media and Communication Management and Media and Design.
The projects and images selected will be published at www.youcreatemedia.com and can receive ratings, comments and be sponsored by internet users through their Facebook newsfeed.
Find out how to participate and submit your entry at www.youcreatemedia.com. A jury of experts will award scholarships to the best work. The deadline for submitting projects is 25 June 2013.
More information: www.mhmk-international.org